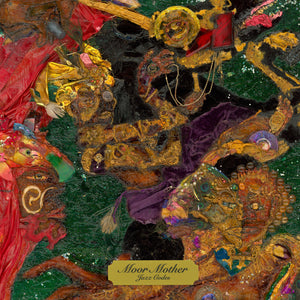 Called "the poet laureate of the apocalypse" by Pitchfork, Moor Mother is announcing 'Jazz Codes'. Coming out on July 1, it is her second album for ANTI- and a companion to her celebrated 2021 release 'Black Encyclopedia of the Air'.
'Jazz Codes' uses poetry as a starting point, but the collection moves toward more melody, more singing voices, more choruses and more complexity. In its warm, densely layered course through jazz, blues, soul, hip-hop, 'Jazz Codes' sets the ear blissfully adrift and unhitches the mind from habit. Through her work, Ayewa illuminates the principles of her interdisciplinary collaborative practice Black Quantum Futurism, a theoretical framework for creating counter-chronologies and envisioning Black quantum womanist futures that rupture exclusionary versions of history and future through art, writing, music, and performance.
Moor Mother - aka the songwriter, composer, vocalist, poet, and visual artist Camae Ayewa – is also a professor at the University of Southern California's Thornton School of Music. She released her debut album Fetish Bones in 2016 and has since put out an abundance of acclaimed music, both as a solo artist and in collaboration with other musicians who share her drive to dig up the untold. She is a member of many other groups including the free jazz group Irreversible Entanglements, 700 bliss and moor jewelry. She has also toured and recorded with The Art Ensemble of Chicago and Nicole Mitchell.